Getting to Grenoble
Getting to Grenoble
At the crossroads of Switzerland and Italy, Grenoble-Alpes Metropole is situated in an ideal location at the heart of the French Alps.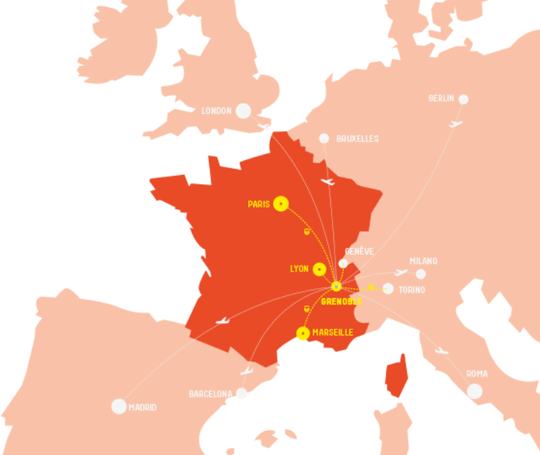 GRENOBLE WELCOMES THE WORLD

Three international airports are located less than 90 minutes from Grenoble: Lyon Saint-Exupéry, Grenoble Alpes Isère and Geneva. In total, more than 200 direct destinations are accessible.

With up to 10 direct Grenoble-Paris round trips by high-speed TGV train, and with the Lyon Part-Dieu hub 1hr15mins away, the rail offer from Grenoble is also very attractive.
Ideally located in the city centre, Grenoble railway station is perfectly connected to the city's bus and tram network. 

Finally, the Auvergne-Rhône-Alpes motorway network is the most densely populated area after Île-de-France. Thanks to the A41, A48, A49 and A51 motorways, Grenoble is easily connected to Lyon, the Rhone Valley, Switzerland and Italy.  
 
  Three international airports
---
LYON SAINT-EXUPÉRY (LYS)
115 direct destinations, 58 airlines
60 mins from Grenoble

 
GRENOBLE ALPES ISÈRE (GNB)
19 direct destinations, 10 airlines
45 mins from Grenoble

 
GENÈVE (GVA)
130 direct destinations, 54 airlines
90 mins from Grenoble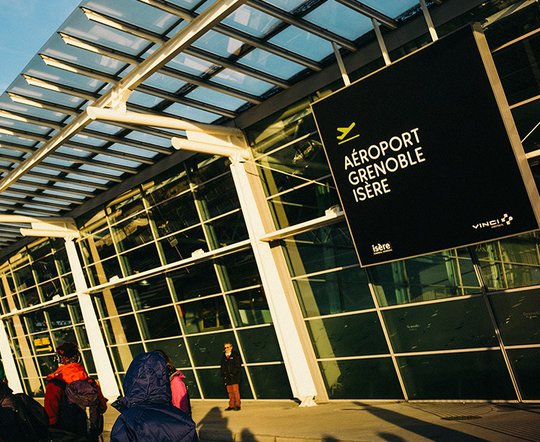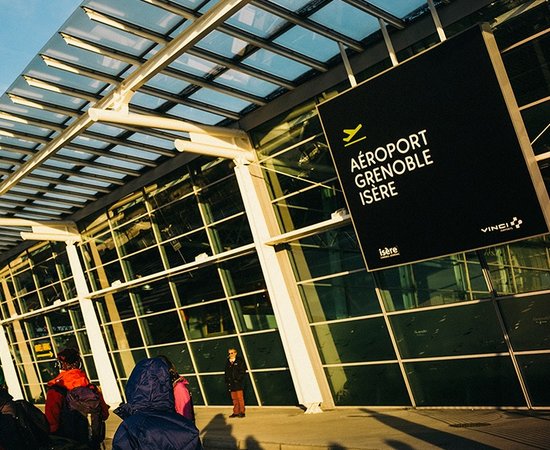 An impressive road network
---
A48-A49 MOTORWAYS
Lyon - 60 mins
Valence - 60 mins
 
A41 MOTORWAY
Chambéry - 45 mins / Annecy - 75 mins
Geneva - 90 mins / Turin - 2hrs50mins / Milan 4hrs
 
A51 MOTORWAY
Marseille - 3hrs
GRENOBLE / aIRPORTS,
great SHUTTLES
---
Shuttle services connect Grenoble to Geneva and Lyon-Saint Exupéry airports. From the bus station, delegates can easily reach the two major international airports in the region.
   A railway station in the city centre
---
PARIS - GRENOBLE 3hrs
16 direct round-trips by TGV/ day
 
LYON - GRENOBLE 1hrs15mins
1 train every 30 mins
Direct access to the Lyon Part-Dieu hub
(Eurostar connection, AVE-Renfe)
 
GENEVA - GRENOBLE 2hrs
Direct connection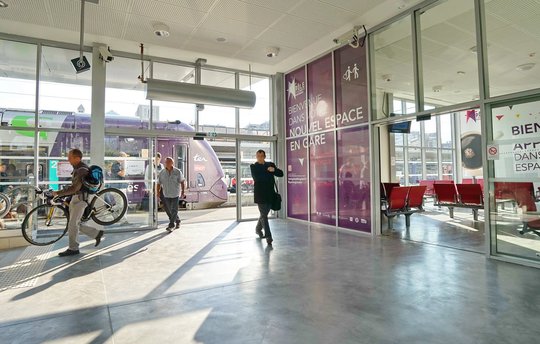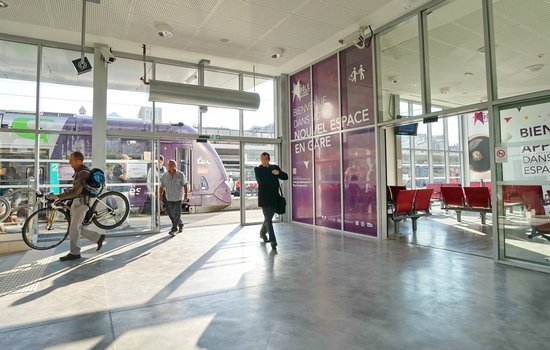 The city benefits from an efficient infrastructure that makes its hub location one of its great advantages. Whether you come by plane, train, or automobile, Grenoble is connected to the capitals of Europe and the world !