Boost your visibility with our communication tools! 
---
The Grenoble-Alpes Metropole hosts nearly 90 congresses every year, 62,500 combined days of conferences per year and more than 1,100,000 overnight stays. The environmental, scientific and industrial appeal of its territory makes Grenoble a first-rate destination for business.
A major player in the promotion of the territory as a business destination, the Grenoble-Alpes Metropole Convention Bureau provides you with quality communication tools to promote your offer to local, national and international events' organisers.
Print
---
The Convention Bureau provides organisers of professional events with various brochures, including the Meeting planner guide (the complete directory of places and services referenced by the Grenoble-Alpes Metropole Convention Bureau), to assist them in the organisation of events.

These documents are available free of charge:
to download on grenoble-congres.com
on request by mail
at trade show
Digital 
---
The Convention Bureau offers advertising banners (555 * 330 pixels 72dpi) on the home page and the venue finder page of its site www.grenoble-congres.com
grenoble-congres in a few numbers :  
10,615 unique visitors in 2016
36,000 pages viewed in 2016
2 languages (FR and GB) 
Click rate of about 0.40% on ad banners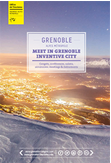 MEETING PLANNER GUIDE
  
Back...................................................€1,500, excluding tax
  1 full internal page...........................€900, excluding tax
  1/2 inside page.................................€500, excluding tax
  Edition : 2,500 exemplars
  Languages : FR and GB 
  Size : 21*29.7 cm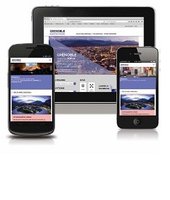 WEB SITE
Quarterly subscription.......€500, excluding tax
1/2 annual subscription.....€900, excluding tax 
Monthly rate...........................€250, excluding tax
---
Your contact
Olivia WERNER
Head of B to B promotion
Tél. : +33 (0)4 76 54 90 71
olivia.werner@grenoble-tourisme.com

 @Olivia_Wrner